Banca de DEFESA: GILBERTO TODESCATO TELINI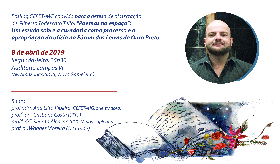 Uma banca de DEFESA de MESTRADO foi cadastrada pelo programa.
DISCENTE : GILBERTO TODESCATO TELINI
DATA : 08/04/2019
HORA: 15:30
LOCAL: Auditório - campus VI
TÍTULO:
Poemas no espaço: um estudo sobre a curadoria como processos e a apropriação do Ofício no Fórum das Petras de Ouro Preto

PALAVRAS-CHAVES:
Curation; Editing; Literary Events; Fórum das Letras de Ouro Preto; Transdisciplinary; Appropriation

PÁGINAS: 146
GRANDE ÁREA: Lingüística, Letras e Artes
ÁREA: Letras
RESUMO:
The activities of selection, organization, hierarchization and construction of coherent narratives concern the work of a curator, a profession that arose connected to the visual arts in environments such as museums and galleries. In contemporary times, such practice, which still lacks bibliographic delimitation and even recognition (as in Brazil), was appropriated by several areas, such as the Editing field.The purpose of this study is to understand aspects of the work of a curator in order to assist the demarcation of a territory of action and, at the same time, to observe how a Literature event, more specifically the Fórum das Letras de Ouro Preto, uses important elements to curation to congregate activities that bring together exponents of Literature and many other cultural activities. Our text is structured in eight chapters. In the first four chapters we present a historical and current panel of curation. In the fifth, we present the methodological trajectories; and in the last three chapters we observed the Fórum in the context of Literature events in Brazil, reconstructing the memory of the event and observing, from a transdisciplinary perspective, the appropriation of curation in the practices of this literary festival. The study was developed from a qualitative and exploratory approach, which involved the techniques of bibliographic research (especially regarding curation) and a case study, undertaken from an in-depth and semi-structured interview with the founder and curator of the event of the city of Ouro Preto/Brazil. At the end, and based on our analysis of the curation of the Forum das Letras, we identified how the event is endowed with curatorial power as an intellectual, creative and integrative work among diverse semiotic systems. At the same time, we traced the paths of contemporary curation, which increasingly opens the way for dialogue between disciplines and enables future appropriations, especially in literary and editorial spaces.

MEMBROS DA BANCA:
Presidente - ANA ELISA FERREIRA RIBEIRO
Externo à Instituição - CRISTIANE HENRIQUES COSTA - UFRJ
Externo à Instituição - RENATA DE ALENCAR TEIXEIRA - PUCMinas
Interno - WAGNER JOSE MOREIRA